Coronation Plaza
Posted by: OLLie on: August 12, 2008
Studying in Nanyang Girls' High introduced me to loads of Bukit Timah good food.
From King Albert's Park (known lovingly as KAP), to Lana Cake thick chocolate-y cake, to Coronation Plaza's Prince student meal that consist of a thick creamy good soup, garlic bread, chicken chop/cutlet/fish n chips etc, and free flow of drinks for just $6.50 (formerly $6).
Or just da bao'ing Lemon Chicken Rice for 3bucks at 可爱鸡,or sitting on the floor near the fire extinguisher at Cosy Corner (which is indeed cosy 'cause whoever heard of eating on the floor instead of tables?), I think I miss Coronation Plaza the most.
For all those people that studied at NYPS, HCJC (now HCI, man, I'm old.),  TCHS (again, it's now HCI. =((( ), MGS, SJI, ACS (barker road), SCGS, NJC, there wouldnt be a single soul who doesnt know of Coronation Plaza. It has remained the same through the 10 years that I have known of its existence, and I bet it's gonna continue for another 10 years in the same condition, looking all musty and erm, lao pok. Ha.
But surprise, surprise, I kinda stumbled onto this new candy shop that sells the cutest candies.
I couldnt resist those colourful candies and bought 6 on an impulse.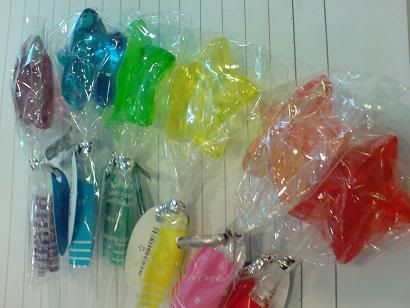 Hee.
I'm so in love.
4 Responses to "Coronation Plaza"