Bleeding non stop
Posted by: OLLie on: August 6, 2008
The other day, I accidentally scratched this tiny little wound that was smaller than 0.5mm on my wrist, and it started bleeding like crazy.
No matter what I do, the blood just kept oozing out. Even when I applied pressure on it for a damn long time, the blood was just steadily oozing non stop, out of the tiny little wound.
It was so bad till I started thinking that I might be a haemophiliac.
Even my sister got a shock when I showed her the blood oozing out.
This was what she saw: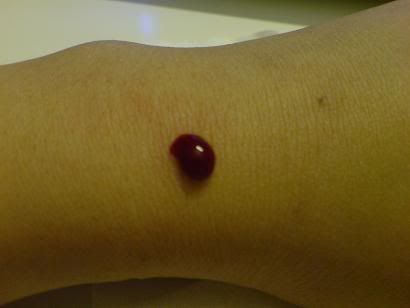 This is the max it got before it started dripping off my wrist. The amount of blood amounted to 2 tissue paper full. 2 pieces of 3 ply tissue paper alright!
Imagine, from a wound that was just less than 0.5mm in diameter.
Absolutely horrifying.
9 Responses to "Bleeding non stop"